DESCRIPTION
Quentin will share excerpts from his book, Strong in the Broken Places: A Memoir of Addiction and Redemption Through Wellness, and how juicing, yoga and meditation helped him cut back on and then quit the many medications he was on, overcome his addictions, and ultimately, transform his life. He is an inspiration for us all to find our own unique path to wellness.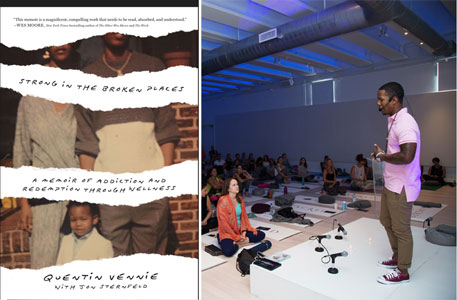 NOTE: Bent On Learning is working with Quentin to spread his message among the middle and high school students in our program and beyond. Please share this invitation with the youth and young adults in your life and their parents, teachers, and/or guardians. Guests 21 and under can receive free admission by RSVPing to anne@bentonlearning.org.
---
About QUENTIN VENNIE
Quentin Vennie is a writer, speaker, wellness expert, and author of the memoir Strong in the Broken Places (Rodale, 2017). He continues to share his experiences of growing up in Baltimore, the impact poverty has had on his life, and how he overcame addiction, an anxiety disorder, and depression using his personal "Trinity of Wellness." Through his many philanthropic efforts, coaching, and speaking, he aims to continue motivating and inspiring people to rediscover their truth while helping them uncover the tools needed to rewrite the story of their lives. He is living proof that it's never too late to become a better version of yourself.
You can find more information on quentinvennie.com and follow him on Instagram @quentinvennie.
About INNER ACTIONS
Bent On Learning's Inner Actions series is a bimonthly event of talks and tools to cultivate our inner lives and best serve our selves, families, communities and humanity. Each event will leave you feeling embodied, empowered and emboldened to make the world a better place for all.
Learn more about Bent On Learning.
---
FAQs
How can I contact the organizer with any questions?
Please email anne@bentonearning.org or call at 917.719.5110.
What's the refund policy?
Tickets are non-refundable and may be applied to a future Inner Actions event, if needed.
---
Beverages provided by Health-Ade

ADDITIONAL INFORMATION
PLEASE VISIT FOR TICKETS AND MORE INFO
https://www.eventbrite.com/e/an-evening-to-nurture-our-inner-lives-with-quentin-vennie-tickets-35315908834
Date: Wednesday, July 12
Time: 7PMEST
Where: Primary, 26 Broadway, New York, NY- http://liveprimary.com/
Who: Quentin Vennie, public figure/author of Strong in the Broken Places
Why: Raise awareness through an experiential event that reflects BOL work in the classroom. Each event will include talks and tools for guests to nurture their inner lives and best serve themselves, their families, communities and humanity.
Anyone under 21 is free. Email anne@bentonlearning.org.
Complimentary Beverages provided by:
Health Ade Kombucha – http://health-ade.com/
Runa Tea – http://runa.org/